Along the Camino there are various types of places to stay that will suit your style and budget.  Whether you prefer the communal and social experience of the albergues or prefer the privacy and luxury of a higher-end hotel Paradores you will most likely find it on the Camino.
Below you will find the distinctions between albergues, hostals, hotels, and Paradores, who runs them, the different amenities they offer and price ranges.
municipal Albergues
5 to 9 euros
Run by the local government with basic to minimal facilities.
Found in most towns and cities along the Camino.
They cannot be booked in advance.
You must have a Pilgrim Credential to there.
Priority is generally given to Pilgrims on foot.
Curfew imposed.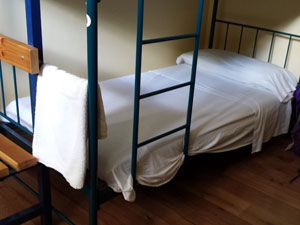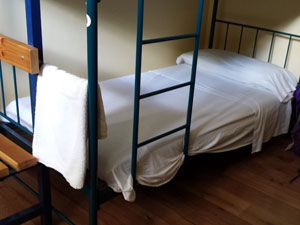 Parish
Donation (donative in Spanish) of 3-5 euro or whatever you can afford.
Run by the local church
Often offers a mass or Pilgrim blessing by the local priest.
Shared meals are often prepared by those staying there for the evening.
Curfew imposed.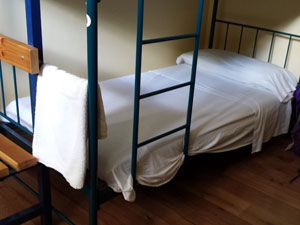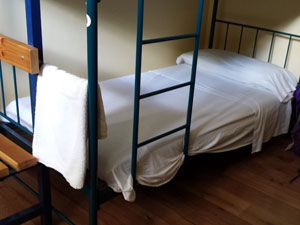 Association
5 to 10 euros
Run by local Pilgrim Association or International Confraternity.
Normally staffed by volunteers with previous Camino experience wishing to give back to fellow Pilgrims.
Curfew imposed.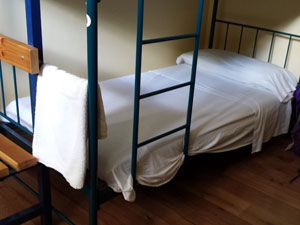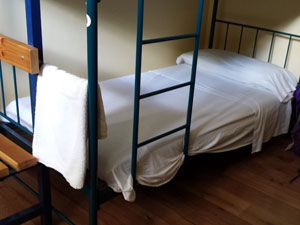 Network (red)
8 to 12 euros.
These albergues are organized with standards in the association.
Facilities vary.
Generally modern with single or bunk beds in rooms of 4 beds or more.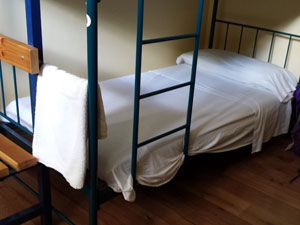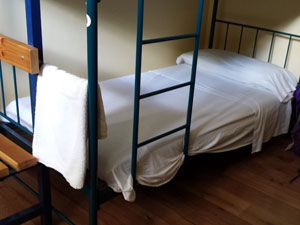 Private
8 to 12 euros (more for private rooms)
Usually family-run businesses.
Single or bunk beds in dormitory-style rooms and shared bathrooms.
Some offer separate rooms with private bathrooms, fresh bedding and towels for a higher cost.
Many have modern facilities for cooking, laundry, common areas and maybe a swimming pool.
May offer breakfast (desayunos) 3 to 5 euro, dinner (cena) 8 to10 euro.
Cleanliness varies from immaculate to mediocre.
Clean bedding may be offered.
Blankets often supplied but used by many pilgrims.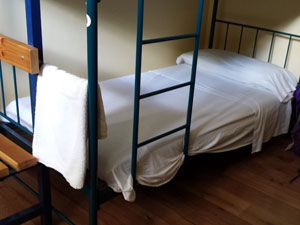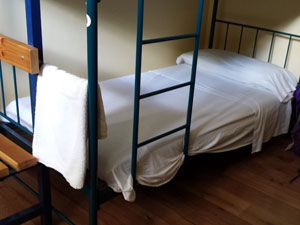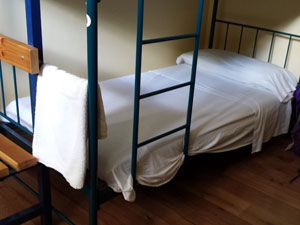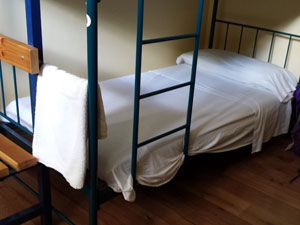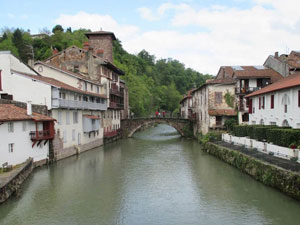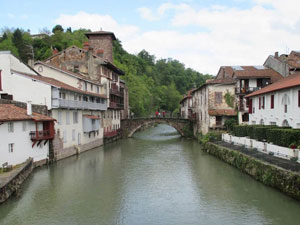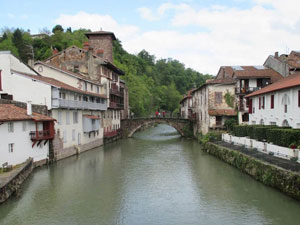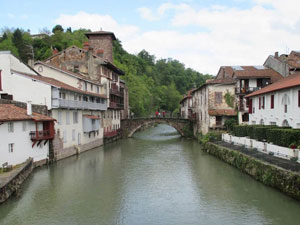 CASA RURALS
Prices vary depending on the room to bed ratio.
Dormitory accommodation 10-12 euro.
Generally family-run.
Unique renovated farmhouses, recorties or grand houses.
Often located a few kilometres outside of towns and cities along the Camino.
Sometimes provide free transportation from closest town to their property.
Often provide home-cooked meals fresh from their gardens.
25 to 45 euro.
What you may know as a 2 to 3-star hotel.
Rooms double or single occupancy with an en suite bathroom.
Bedding, towels and toiletries are provided.
No room service or coffee makers in the room.
Come and go as you please with NO time restrictions.
Most have no kitchen facilities for Pilgrims usage but may offer meals for a fee.
Ask if breakfast is included (desayuno incluido en el precio?).
Some are quite lovely and modern and may refer to themselves as hotels so be sure to check out the amenities before you book.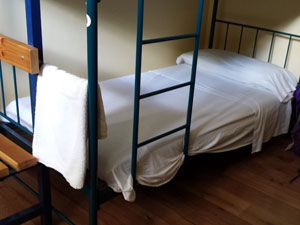 Starting at 50 euro depending on the size of the city, and time of year.
Found in and around big cities.
The 3, 4 and 5-star hotels have luxuries and amenities you may be familiar with.
Freedom to come and go as you like.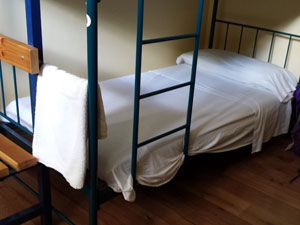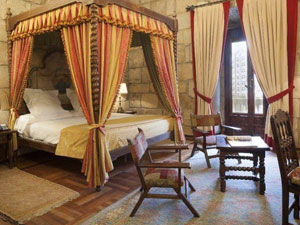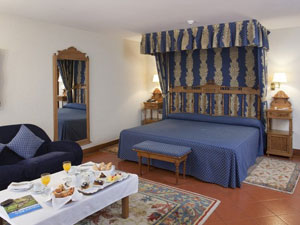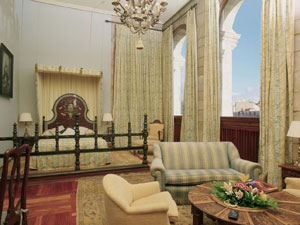 PARADORES
Restored castles, convents, monasteries, palaces, fortresses, manor houses and a few modern Paradores.
Set up and run by the Spanish government to help in preserving and maintaining the historical buildings.
Renowned for quality, service and luxury.
Located all throughout Spain and several along the Camino route in medieval towns.

Leon- San Marcos Monastery.
Santo Domingo de Calzado-former pilgrim hospital.
Villafranca de Bierzo-modern
Santiago de Compostella-Parador Hostal Dos Reis Católicos/