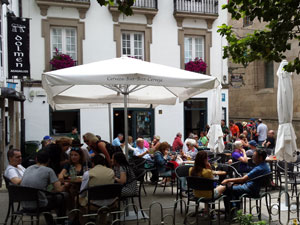 There are hundreds of places to eat along the Camino.
 Restaurants, cafe's, and albergues will prepare food for you.  Grocery stores, deli's, bakeries and abarrotes have basics for you to purchase.  Whether you want to prepare a do it yourself meal at the albergue, put together a light meal and eat on the road, or just get a snack you never need to be short of food.
While there are a few stages where the next village may be hours away planning for the next day will be very important.  Getting provisions the night before at the grocery store, having your albergue prepare you a packed lunch (typically a bocadillo-sandwich) or picking something up in the morning for your day's journey are all doable.
Cold cuts in vacuum packs, dried sausage, hard cheeses, bread, dried or fresh fruits, boiled eggs, and nuts will easily last the day wrapped up in your backpack and get you through the day.
Menu del Dia/Pilgrims Menu
This is offered pretty much across the Camino at Restaurants and Albergues that prepare food. It is both generous and economical consisting of three courses.  Most often bread and wine are included but clarify beforehand especially if you like a second glass of wine with dinner.
The meal is generally priced from 10 to 15 euro.
1st Course-One of the following
2nd Course-One of the following with potatoes.
3rd Course-One of the following
yogurt
flan
fruit
custard? name of this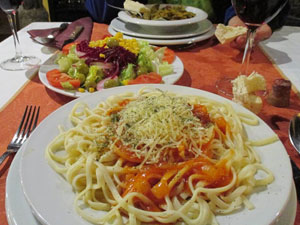 Restaurants
Every region across Spain has its own culinary specialties, with the soups being excellent. Don't miss out the opportunity to try the bean soup, the garlic soup, meat soup, ham and potato and other regional favourites.
Spain is a country that loves its meat and is a carnivores dream.  This might not be to everyone's liking as fresh vegetables are not so plentiful across Spain as you might be used to.  For the veggie lovers, some Albergues and restaurants specialize or offer vegetarian meals but call in advance for availability.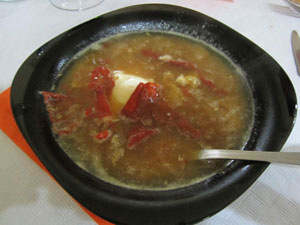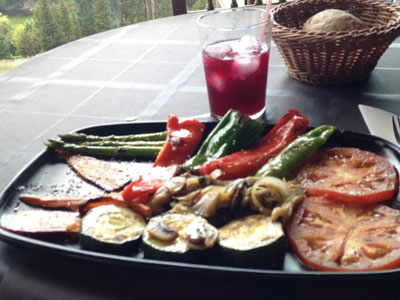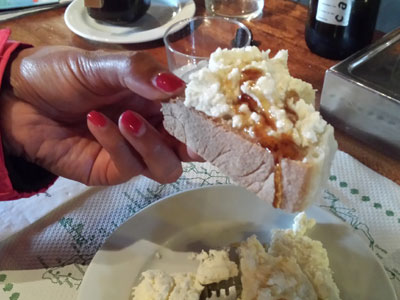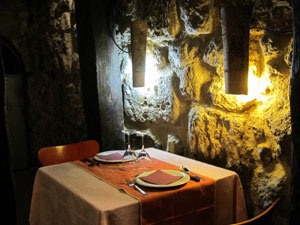 Specialties To Look Out For
Saint Jean Pied de Port:Bean Soup
Pamplona: Pinches/Tapas
Logrono: Free Tapas with drinks
Garlic Soup
Fabada asturiana, often simply known as fabada, is a rich Spanish bean stew, originally from and most commonly found in the autonomous community of Principality of Asturias, but widely available throughout the whole of Spain and in Spanish restaurants worldwide
Soft cheese with honey-Galicia-soups
Navarre: Idiazabal And Roncal Cheese, chistorra, 
Lodosa Piquillo Peppers
Tudela artichokes,navaren lamb,white asparagus, navren beef, Pacharan (aperitif), navarra wines.
Rioja-wine
 Specialties To Look Out For
Lamb roasted
paella
tino primera? gazpacho
tortilla-spanish omelete
Polbo á feira alternatively known as pulpo estilo feira is a traditional Galician dish
A

 

pincho

 

pintxo or pinchu is a small snack, typically eaten in bars, traditional in northern

 

Spain

 

… which an ingredient or mixture of ingredients is placed and fastened with a toothpick, which gives the

 

food

 

its name "pincho", meaning "spike.