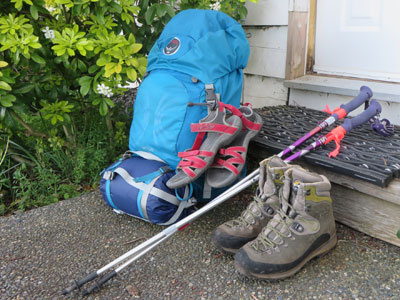 Your gear is the most important thing you will have to choose for your journey on the Camino de Santiago.
You will use your boots and backpack every day and are top of the priority list of "must choose wisely".  The right choice of boots and pack will carry you across the Camino comfortably while the wrong selection will bring you blisters, painful joints, and muscles and could easily ruin your experience or even send you home.
At Camino Bound, we will help guide you to choose wisely.
Boots
5 to 9 euros
Run by the local government with basic to minimal facilities.
Found in most towns and cities along the Camino.
They cannot be booked in advance.
You must have a Pilgrim Credential to there.
Priority is generally given to Pilgrims on foot.
Curfew imposed.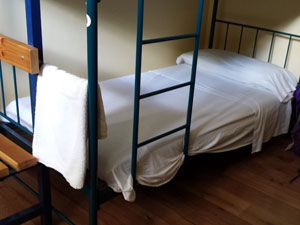 backpack
Choosing the correct backpack for you is of utmost importance because it will be on your back for several hours every day. If you choose the right bag it will sit on you comfortably and not be a burden, but if you choose a bag that doesn't fit you properly you could suffer lots of pain and injury may result.
Choosing the best backpack for you will take time so do your research and allow a few hours to shop for it. Have an expert in the section help you. Tell them about your journey, how long you'll be hiking, and what you are planning on bringing. It is a good idea to ask if they or anyone on staff has experience hiking long distances, or on the Camino. If they are familiar with the Camino, that is a bonus. Keep in mind that just because someone has done some long-distance hikes they might have missed a few key factors about choosing the right pack for you.
Your backpack should fit your torso properly, be a good size, not too big and not too small, and should be able to hold your daily needs on the Camino.  It is suggested that you carry only 10% of your body weight, the weight of your backpack is included in that 10%.
Things NOT to consider when choosing a pack:
The colour of the pack should NOT be a reason for choosing it.
Choosing a pack because your partner or friend has one like it should NOT be a reason for buying it.
Choosing a pack because you like the brand name should NOT be the sole reason for choosing your backpack.
Helpful Tips for choosing your backpack:
Your backpack should fit your body comfortably being not too small or too big. Many packs come in various sizes, average, long, short, and some specifically sized for women.
Weight. Fabrics, zippers, straps, buckles, compartments, a frame, and other accessories add to the weight of the bag. Remember the weight of your pack is INCLUDED in the 10% weight allotment.
Before you try on a backpack be sure to load it with weights. Good sporting stores will have bags of sand or weighted bags to use. Distribute the weighted bags in the backpack accordingly by placing heavier ones at the bottom, medium weight bags in the middle and closer to your body, and lighter weight bags on top.
Loosen all the straps on the bag before you put it on and ask the associate to show you how to adjust them properly. Some bags have several straps that allow for fine adjustments that make the pack more comfortable. Ensure the waist strap is adjusted over your hips and pulled tightly. Your hips will carry the majority of the weight of your bag taking the weight off of your shoulders.
Walk around the store with the pack on, squat a few times, bend over, step up on your tiptoes, and move about. If there are stairs in the store walk up and down the stairs as well.
If a bag does NOT feel comfortable, take it off, put it aside, and try another. If a pack feels good, take it off and put it in the "Maybe" pile.
Try on another pack that suits your body size.
Have no more than three packs in the "Maybe" pile at one time.
When you try on the fourth pack and you like it, you will have to decide if it is better than any of the three in the "Maybe" pile. Keep your Maybe pile filled with the best three packs for you.
When you have tried on all packs in the store that suit your body size, are comfortable and of appropriate weight go to your "Maybe" pile and try those 3 packs on again. Choose the best pack out of the three that meet your comfort and weight needs.
Once you choose your pack it is a good time to get a pack rain cover for it.  Keep your pack loaded with the weights and try on the cover to ensure full coverage.  This will keep your pack and contents dry.
hydration
5 to 10 euros
Run by local Pilgrim Association or International Confraternity.
Normally staffed by volunteers with previous Camino experience wishing to give back to fellow Pilgrims.
Curfew imposed.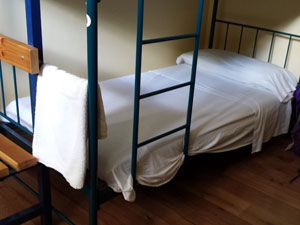 walking sticks
8 to 12 euros.
These albergues are organized with standards in the association.
Facilities vary.
Generally modern with single or bunk beds in rooms of 4 beds or more.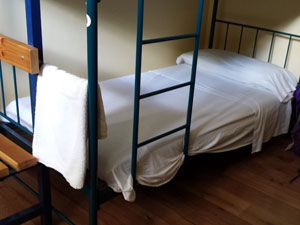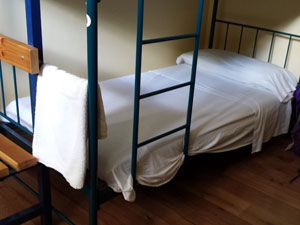 rain gear
8 to 12 euros (more for private rooms)
Usually family-run businesses.
Single or bunk beds in dormitory-style rooms and shared bathrooms.
Some offer separate rooms with private bathrooms, fresh bedding and towels for a higher cost.
Many have modern facilities for cooking, laundry, common areas and maybe a swimming pool.
May offer breakfast (desayunos) 3 to 5 euro, dinner (cena) 8 to10 euro.
Cleanliness varies from immaculate to mediocre.
Clean bedding may be offered.
Blankets often supplied but used by many pilgrims.